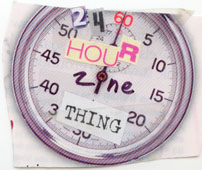 24 Hour Zine Thing


Jennifer Darling
Web site: the pretty things
Danville, Virginia
size: quarter-size


Megalocardia

Cut-and-paste layout. Contents include memoirs about recent problems with my boyfriend, my recent brush with B-List actors here in my small hometown, and a hint of touching on the dynamics of my circle of friends.

paypal $1.80 to [jenniferisarobot@yahoo.com]. No trades at this time.




24HZ Home | 24HZ FAQ| Participants | Regular Updates